Delta News
Fall Flight Outlook: Canadas, Specks, Snow Geese Flocks Remain Strong
Kyle Wintersteen, Managing Editor on 08/18/2015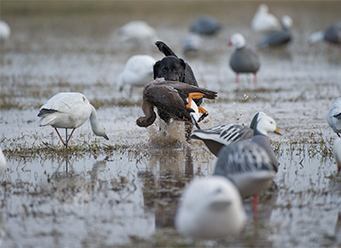 GOOSE POPULATIONS continue to thrive, and the 2015 fall flight should prove similar to last year, according to the U.S. Fish and Wildlife Service's 2015 Waterfowl Population Status Report. Overall, most dark goose populations are comparable to or slightly higher than 2014, while a few light goose populations showed declines. Nesting conditions varied across the prairies and arctic Canada, which cumulatively should lead to average production.
Canada goose hunters can expect a good fall flight in most regions. The Atlantic and Mississippi flyways will likely see a repeat performance of 2014. Habitat conditions were generally good in key breeding areas, but many ponds remained frozen until June across the eastern Hudson Bay coast. A late production surge is believed to have offset the impact of a lingering winter, and average fall flights are anticipated.
Canada geese nesting across the prairies encountered good to fair pond conditions, while conditions were excellent in the Northwest Territories. Both bode well for hunters from Manitoba to Texas, who can expect an average to above-average fall flight.
A persistent drought continues in many western regions, much to the detriment of nesting Canada geese. Conditions were fair to poor in Alberta, good to fair in British Columbia and extremely dry in the western United States. The Pacific Flyway can therefore expect average to below-average goose production. Still, the fall flight should be similar to last year.
Declines were observed in a couple populations of light geese. Most notably, the Mid-continent snow goose population — which accounts for the majority of snows in North America— fell 14 percent. This ends a 10-year trend in which the population grew 7 percent annually. A below-average flight is expected, but the estimate of 3.28 million remains well in excess of population goals. Greater snow goose hunters from New Jersey to North Carolina should enjoy an average to above-average fall flight, as decreased predator densities led to increased nest success.
California hunters can anticipate an average flight of white-fronted geese. The Pacific population declined 25 percent, but an early spring led to favorable nesting conditions across Alaska's Yukon–Kuskokwim Delta. There's great news for specklebelly hunters in Arkansas and Louisiana. The Mid-continent white-fronted goose population is 29 percent higher than 2012 (there was no 2013 survey), and good nesting conditions in Alaska and the eastern arctic should lead to an increased fall flight.
Concern remains for Atlantic brant, which are 16 percent lower than 2014 and have declined 3 percent annually since 2006. A 30-day season with a one-bird daily limit has been instituted. Pacific brant numbers have declined, but good production conditions in the western Arctic should lead to an average to above-average fall flight.