Delta News
Record Turnout for Lancaster Delta Day
Posted on 08/18/2015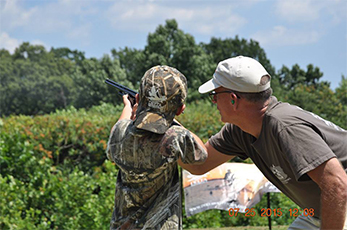 THE LANCASTER Chapter's "Delta Day" event — which provides new and aspiring waterfowlers with a taste of the sport — continues to grow. A record 150 people, including 68 youths, attended the 5th annual Delta Day on July 25. Participants were treated to decoy carving, clay shooting, calling tips, a simulated hunt with layout blinds and more.
"It was a huge success," said chapter chairman Todd Bergman. "Plenty of new and non-hunters experienced firsts throughout the day and left with a positive outlook on the sport and Delta Waterfowl. The ability of the chapter to engage new people and put smiles on their faces speaks volumes to the dedication of our chapter members."
By using Delta's Waterfowl Heritage Fund and charging a $5 admission fee, all youth participants received a catered barbecue lunch, duck call, ticket to a local minor league baseball game, Delta hat and other materials.
"Hard work is nothing new to the Lancaster Chapter," said Delta Waterfowl regional director Matt Kneisley. "I'm very proud of all they do."