Delta News
Fall Magazine Features Delta's First Hunt Program
Posted on 09/10/2015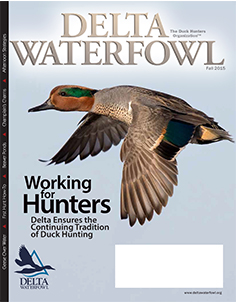 Delta Waterfowl's mission to secure the future of duck hunting depends on a new generation of waterfowlers to inherit the tradition. That's why we created First Hunt, North America's largest waterfowl-specific hunter recruitment program. Our Fall 2015 magazine issue takes you along as several youths attend a First Hunt event, bag a few ducks and return home as duck hunters. It may even inspire you to host a First Hunt of your own.
With duck season upon us, the Fall Issue also provides cutting-edge hunting tactics. Brad Fenson explores strategies for afternoon hunts, while Kyle Wintersteen details how to decoy geese over water and David Hart explains the keys to bagging ducks on beaver ponds.
You'll additionally experience the unique charms of Lake Champlain through freelance writer David Rearick, and gain a fresh perspective on field goose hunting through the lens of Delta Waterfowl photographer Fred Greenslade.
As always, the Fall Issue carries a full slate of informative and entertaining columns such as Retrievers, Strategies, Shotgunning and Traditions to help you get the most from your waterfowl hunting.
The only way to get Delta Waterfowl magazine is to join The Duck Hunters Organization. If you are a member, thank you for your support. The Fall Issue will arrive soon. Enjoy!
To join Delta Waterfowl, call (888) 987-3695 or click here.