Delta News
Keys for Opening Day Success
Paul Wait, Editor on 09/23/2015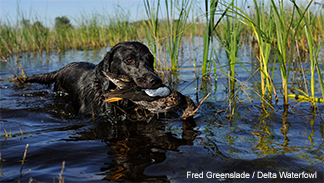 You've worked your retriever. You've dutifully shot clay targets all summer. You've fixed the leaky decoys, bought new waders and stocked up on shotshells.
You're all ready for opening day. Right?
Maybe. But maybe not. Sure, you've put in the work to have a great hunt, but what about the factors you cannot control? Here's some time-tested advice from a public lands duck hunter who has survived — and even thrived — during dozens of opening day outings.
Key No. 1: Be smarter than other hunters. I'm not talking about classroom IQ, but rather, duck hunting intelligence. Know your hunting spots and the current conditions. Many opening day hunters go to the same exact place every year, regardless of whether water levels are at flood stage or it's a drought year. You must scout. One of my favorite walk-in areas has a pair of hidden potholes that are only wet if the water control structures are closed on that end of the marsh. Most years, they're not closed. This year, they are. It's a tough slog to get in there, but I know it's worth the effort.
Key No. 2: Exercise patience. One opener, a pair of young hunters beat me to my chosen spot. I decided to set up down the shoreline, giving them plenty of space, even though I knew most of the ducks would favor their spread. I played a hunch that they'd either limit quickly or have their fill of duck hunting. They shot several ducks within an hour, and decided to call it a morning. They were barely out of sight when I began pitching my decoys right where theirs had been. I shot three ducks in the first 15 minutes after moving.
Key No. 3: Have a Plan B, a Plan C, and maybe even a Plan D. In Wisconsin, every hunter with a duck stamp and a box of steel shot goes to the marsh on opening day. On public waters, you will be competing with other duck hunters for a spot. What happens when you get there at 3 a.m. and another group shines at you from your spot? I always pick a marsh that will quickly allow me to head immediately to another location. Your opening day game plan should include several contingencies. If you scout, you'll have good backup options.
Key No. 4: Make sure all of your gear is up to the task. Before a recent season, a fellow duck hunter bought a new outboard motor and proudly proclaimed he'd be the first to his spot for the opener. But at the boat launch that morning, he discovered the boat transom couldn't handle that style of motor mounts. Not to be denied, he and a buddy piloted out to the duck hole with a loose motor. It was going OK until they hit some weeds and the engine pulled right off the boat. It sunk quickly, just like their high hopes for a great opening day.
Key No. 5: Get some sleep. Opening day is exciting! But here's a news flash: Your hunt will assuredly be much more fruitful if you are rested. I've been that guy who went to the marsh on 20 minutes sleep. And an hour into the hunt, I had missed several easy shots at ducks, dealt with an upset stomach brought on by a lack of sleep and was generally miserable. I went home early and duckless, despite having secured the best spot in the marsh.
So there you go: Be smart, scout, test your gear, have a backup plan and sleep securely on the eve of opening day, confident in the knowledge that you've done all you can to have a great hunt.