Delta News
The Evolution of Realtree Max-5
Kyle Wintersteen, Managing Editor on 09/23/2015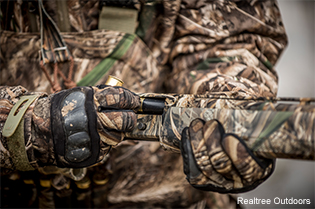 Given our current era of terrain-specific camouflage, it's easy to forget that patterns were once designed for all-purpose use. Take Realtree, for instance. Today its Max-5 camo is among the best options afforded to waterfowlers, but not so long ago, duck hunters and deer hunters wore the same Realtree pattern. The development of Max-5 required technological innovation, new approaches to camo strategies and a healthy dose of artistry. Here's how it evolved over three decades.
Versatile Origins
Introduced in 1986, the original Realtree pattern was designed for versatility rather than any specific terrains. Inventor Bill Jordan wanted a pattern that worked against rocks, timber and more — that would benefit any type of hunter. In terms of waterfowl hunting, it proved an ideal pattern for flooded timber, but by today's standards, it was too dark for hunting a marsh or cattail slough.
By the time Jordan designed the Realtree All-Purpose pattern in 1991, he'd begun to tweak his camouflage for specific habitat elements. All-Purpose featured brush and cropland elements, and its less dense appearance helped visually disrupt the human outline.
Advantage Wetlands
Realtree expanded its lineup in 1996 to include its first real waterfowl pattern — Advantage Wetlands — but Jordan's commitment to versatility remained. Advantage Wetlands was in fact also intended for deer hunters seeking bucks in cornfields, the outskirts of marshes or open fields.
A Dedicated Waterfowl Pattern
The 2003 introduction of Realtree Max-4 — a strictly waterfowl pattern intended for no other purpose — marked a notable shift in strategy. Gone were the days of "every man" camo. Now hunters had specific options for the habitats and game they intended to target. With its three-dimensional marsh grasses and reeds, Max-4 won over a large portion of the duck-hunting community and grabbed a substantial share of the camo market. The more lightly colored pattern blended well in marshes, the brushy edges of lakes and rivers, and agriculture fields.
Technology Leads to Max-5
Just more than a decade later, modern printing technologies allowed introduction of Realtree's current flagship waterfowl pattern: Max-5. It adds additional habitat elements, plus a three-dimensional feel that Realtree intended for Max-4 but lacked the technology to accomplish. A sharp foreground, hazy mid-ground and blurred background combine to eliminate the human outline and fool the wary eyes of approaching waterfowl. It is, in short, the product of 30 years of waterfowl camo evolution.