Delta News
North Dakota Hunter Wins Delta Truck Raffle
Posted on 10/20/2015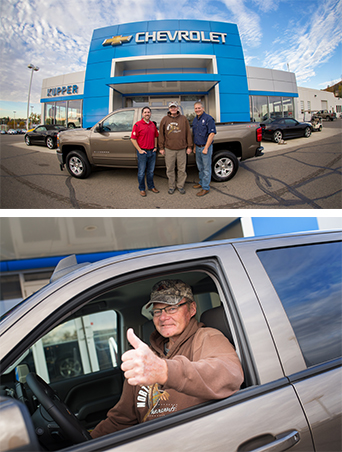 Myron Colton has a brand-new duck hunting truck.
His ticket, No. 299 of the 1,000 chances sold in the 2015 Delta Waterfowl Truck Raffle, was drawn as the winner of a 2015 Chevy Silverado 1500 4WD LT Crew Cab pickup truck and $1,000 cash.
Colton, of Bismarck, North Dakota, has been a Delta Waterfowl member since 2002, and has purchased a truck raffle ticket for the past three years. He was excited to pick up his new truck last week from Kupper Chevrolet in Mandan, North Dakota.
"I will definitely take this out scouting," he said, admiring his prize.
Delta's truck raffle, a popular annual fundraiser, raises money for the organization's duck production work.
This year's Truck Raffle was sponsored by Kupper Chevrolet in Mandan, ND.