Delta News
Alberta Outfitters Fund Delta Waterfowl Hen House Supersite
Posted on 10/21/2015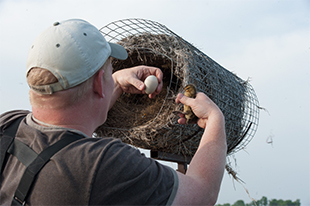 WINNIPEG, MANITOBA — Delta Waterfowl will install a new Hen House Supersite in Alberta this winter, with the project cost funded by the Alberta Professional Outfitters Society.
Delta has been awarded a $36,125 grant from the APOS Wildlife Management Fund to build, install, and maintain 100 Hen Houses near Red Deer in central Alberta. Hen Houses are cylindrical nest structures — used primarily by mallards — placed over water on a pole. They boost duck nest success by providing hens the chance to incubate eggs out of the reach of predators such as foxes, raccoons and skunks.
Glenn Brown, president of the APOS board of directors, said the Hen House project is appealing because it will benefit duck numbers locally and also add to the resource for all Albertans.
"Outfitters are sometimes seen as just takers," he said. "We give back, too. Delta's Hen House project was specifically chosen for funding because of its location. A couple of our outfitters take a lot of birds in that area, and a lot of local Albertans hunt there. We want to put back for waterfowl."
APOS, a not-for-profit organization founded in 1997 to promote and administer outfitted hunting in the province, represents more than 450 outfitters and 1,500 guides. The APOS Wildlife Management Fund pays for wildlife population surveys, research and conservation efforts.
"This is the first conservation project we've funded specifically for waterfowl," Brown said. "All of the money for it is coming from outfitters."
Properly maintained Hen Houses produce ducks year after year, with nest success rates as high as 80 percent in some areas. Delta is expanding the organization's duck production efforts in Alberta, with plans have more than 4,000 Hen Houses in key nesting areas by spring of 2019.
"We appreciate the support for our Hen House program," said Joel Brice, vice president of waterfowl programs for Delta Waterfowl. "I admire the vision of APOS to give back to the resource in Alberta."
For more information, contact Joel Brice, at (888) 987-3695 ext. 225 or jbrice@deltawaterfowl.org.
Delta Waterfowl Foundation is The Duck Hunters Organization, a leading conservation group working to produce ducks and ensure the tradition of duck hunting in North America. Visit deltawaterfowl.org