Delta News
Memphis Mid-South First to Raise $1 Million
Paul Wait, Magazine Editor on 10/21/2015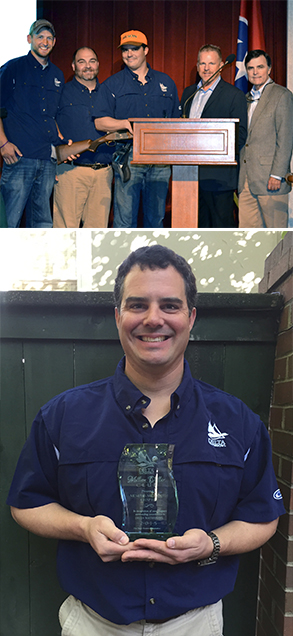 The Memphis Mid-South Chapter of Delta Waterfowl was honored this fall as the first chapter to reach $1 million in cumulative events fundraising.
Established in 2002, the chapter became the first recipient of Delta's "Million Dollar Club" award, surpassing $1 million in net funds raised at its Sept. 30 banquet. Memphis has been Delta's top chapter in net revenue for the past four years, and annually ranks in the top five in number of members.
The chapter's success results from the hard work of local volunteers, said Sam Buckmaster, president of the Memphis Chapter.
"We are fortunate to have a lot of people who are very passionate about Delta Waterfowl," Buckmaster said. "We all merge together and work at putting together a great event."
Kyle Samples, Delta's regional events director for Tennessee, points to the dedication of chapter's committee members as the primary reason Memphis has such a strong event every year.
"These guys love Delta. They love our programs," Samples said. "They consistently go the extra mile and do extra work so Delta will be successful."
Dr. Scott Petrie, Delta's chief executive officer, attended the event to present the chapter committee with a commemorative award and a specially engraved shotgun, which the chapter promptly auctioned to raise even more money.
"Delta's Memphis Chapter has an incredible history of hosting spectacular fundraising events for waterfowl and wetland conservation, research, hunting advocacy and youth participation in our hunting heritage," Petrie said. "It gives me great pleasure to congratulate these hard-working volunteers, as well as the many event contributors and attendees, in becoming the first Delta chapter to raise $1 million for Delta Waterfowl. This support has contributed substantially to our ability to increase waterfowl populations and advocate for hunters in North America."