Delta News
Delta Director Wins Mississippi Duck Calling Championship
Posted on 11/06/2015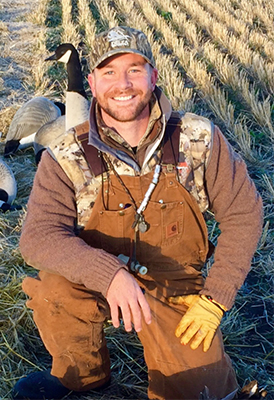 TJ Mallette, development director for Delta Waterfowl, won the 2015 Mississippi State Duck Calling Championship on Oct. 31 in Drew, Mississippi. The win qualifies him for the 80th annual World's Championship Duck Calling Contest on Nov. 28 in Stuttgart, Arkansas.
"It feels great to have an opportunity to represent Delta Waterfowl and Mississippi in Stuttgart," Mallette said. "Once you qualify, the pressure is off. I'm going to leave everything out there on the stage and leave it up to the judges."
Mallette's call of choice is a Rich-N-Tone MVP, a brand to which he owes a great deal of loyalty. "Butch" Richenback — RNT's late, legendary call-maker — was Mallette's long-time mentor.
"Butch taught me all I know," Mallette said. "It's good to get a win the year he passed."
With his qualifying win, the 26-year-old will blow in the World's Championship for the second time in his calling career. Mallette won the 2008 Grand American Regional near Tennessee's Reelfoot Lake. He took a hiatus from calling competitions while earning a psychology degree from the University of Mississippi. He's also worked as a full-time duck guide in Arkansas, which helped fund his education.
Hired as development director for Delta Waterfowl in June, Mallette works with donors to fuel Delta duck production and habitat programs.
"It couldn't be a better fit for me. It's very rewarding to partner with other duck hunters to do what's best for waterfowl," he said. "Delta donors directly support putting more ducks into the sky."
Mallette lives in Madison, Mississippi, with two black Labrador retrievers: 6-month-old Rip and 7-year-old Cash, an AKC Master Hunter. He can be reached by e-mail at tmallette@deltawaterfowl.org.