Delta News
Winter Issue Focuses on Duck and Goose Hunting
Posted on 11/13/2015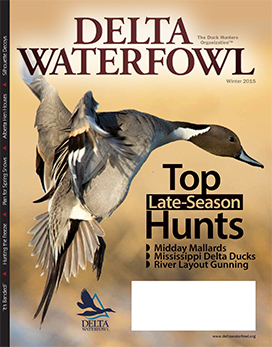 While waterfowl seasons are well underway in the north and even winding down in some areas, the migration is just heating up in mid-latitudes and the south.
To reflect the time of year — it's certainly our favorite season — the Winter Issue of Delta Waterfowl magazine tips toward November, December and January duck and goose hunting. We feature a black duck hunt in the Atlantic Flyway, target canvasbacks and diving ducks on the Mississippi River and slide south to the green timber for a mallard and gadwall hunt.
And we haven't left out our goose hunters. We look ahead by profiling top spring snow goose destinations, starting in the south and heading all of the way into Canada.
As always, the magazine carries excellent advice about retrievers, shooting and waterfowl hunting tactics, and you surely won't want to miss a stunning photo essay depicting banded ducks and geese.
The only way to get Delta Waterfowl magazine is to join The Duck Hunters Organization. If you are a member, thank you for your support. Your Winter Issue is in the mail.
To join Delta Waterfowl, call (888) 987-3695 or visit deltawaterfowl.org.