Delta News
Central Missouri Chapter Sponsors Junior Olympic Shooter
Posted on 11/18/2015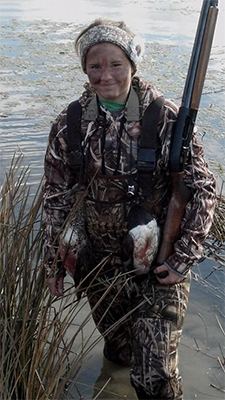 The Central Missouri Chapter of Delta Waterfowl has a Junior Olympian in its ranks. In April, chapter volunteer Chyanne Davis, 18, competed in the 10m Air Pistol event at the National Junior Olympic Championships in Colorado Springs, Colorado. The Ashland, Missouri, native finished 38th in an ultra-competitive field of 58 young women from across the United States.
The Central Missouri Chapter sponsored a portion of Davis' expenses through its Waterfowl Heritage Fund. Committee member Robert Davis, Chyanne's father, says the chapter was honored to support her Junior Olympic dreams.
"Chyanne has a long-standing passion for waterfowl hunting, and that interest spilled over into the competitive shooting world," he said. "Over the past four years, she's competed in National 4-H Shooting Sports, ultimately earning a chance to represent Missouri at the Junior Olympics."
Despite a rigorous shooting practice regimen, Davis remained focused on her high school studies and even honored her commitment as a Delta volunteer.
"She takes particular interest in helping with our First Hunt events, because she loves sharing her passion for duck hunting with others," Robert Davis said. "She also volunteers at our chapter banquets and attends chapter meetings."
A freshman at Missouri State University, Chyanne is majoring in wildlife conservation and natural resources. Her long-term goals include using her degree to ensure thriving waterfowl populations for future generations.