Delta News
Delta Waterfowl Celebrates 30 Years of the Conservation Reserve Program
Posted on 12/02/2015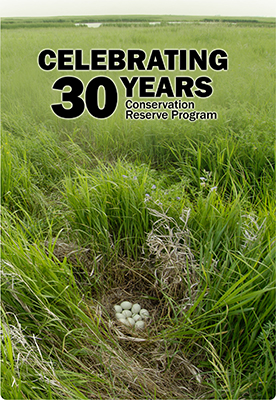 BISMARCK, N.D. — Delta Waterfowl congratulates the Conservation Reserve Program on achieving its 30th anniversary. Signed into law on December 23, 1985, CRP has arguably boosted duck production more than any private-lands conservation program in North America.
"CRP is practically unrivaled in its impact on continental duck production," said John Devney, vice president of U.S. policy for Delta Waterfowl. "The magic of CRP is its ability to benefit nesting ducks on the large scale. It's provided millions of acres of nesting grass across the prairie pothole region, including more than 3.5 million acres in North Dakota during the program's historic high."
Administered by the U.S. Department of Agriculture, CRP provides voluntary incentives to farmers and ranchers, who in turn shift a portion of their lands from agriculture production to grass and other cover types. Thus waterfowl are afforded huge expanses of nesting habitat, which protect hens, eggs and ducklings from predators. The boost this provides to duck production, as well as to soil and water quality, is immense.
"Almost every upland-nesting species has benefitted from CRP," Devney said. "It's among the reasons why mallards, gadwalls, green-winged teal and blue-winged teal are thriving. It's also been a stabilizing factor for lesser scaup, an upland-nesting diver. A study shows that eastern North Dakota — a region of vast CRP acreages — is the only area of the lesser scaup's breeding range where population increases are being achieved."
According to research conducted by the U.S. Fish and Wildlife Service, CRP in the prairie pothole region directly adds as many as 2 million extra ducks each year to the fall flight. The study additionally found that CRP added about 12 million ducks from 1992 to 1997.
CRP general enrollment began December 1 and runs through February 26, 2016, marking the first general signup since 2013. A total of 24 million acres are available for enrollment nationwide, down from an all-time high of 39.2 million acres in 2007. Despite the reduced acreage cap, Delta Waterfowl is strongly committed to ensuring the prairie pothole region remains a priority for investment of CRP dollars.
"As a result of the reduced acreages, we'll need to be creative. In particular, CRP must continue to target landscapes of lower quality soils in the PPR, where we can have a greater impact on duck production," said Devney, who's currently in Washington, D.C., meeting with key CRP leadership. "As The Duck Hunters Organization, we must continue to have a voice in conservation policies. However, while there are opportunities to improve the CRP program, few conservation initiatives come close to its duck-production legacy."
For more information, contact John Devney, vice president of U.S. policy, at (888) 987-3695 ext. 218 or jdevney@deltawaterfowl.org.
Delta Waterfowl Foundation is The Duck Hunters Organization, a leading conservation group working to produce ducks and ensure the tradition of duck hunting in North America. Visit www.deltawaterfowl.org.