Delta News
Delta Builds Support for Wetland Conservation
Posted on 12/10/2015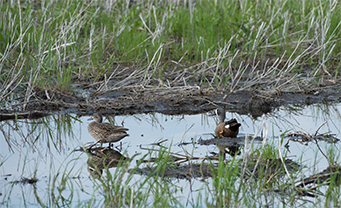 Delta Waterfowl recently traveled to Capitol Hill to discuss important wetland conservation initiatives with policy makers.
John Devney, vice president of U.S. policy for Delta Waterfowl, met with North Dakota congressional staff members and key leaders from the National Resources Conservation Service last week in Washington, D.C.
Delta's visit was primarily in support of the North Dakota Working Wetlands Pilot Project, an innovative habitat initiative to protect hundreds of the state's best duck-producing wetlands. More than 4,000 acres of small wetlands imbedded in cropland will be conserved by providing incentive payments to farmers. A $1.75 million grant from the North Dakota Outdoor Heritage Fund will cover the incentive payments, while the NRCS is providing matching funds for program delivery.
Delta wants to increase the impact of the Working Wetlands concept by continuing to work with the NRCS and other farming and conservation leaders.
"The NRCS and Farm Service Agency are investing more money into North Dakota conservation than any other source," Devney said. "By building these partnerships, we can have a profound effect for conservation on the privately owned duck habitat that produces 90 percent of the ducks in the fall flight."
During his visit, Devney also represented Delta at a 30th anniversary celebration for the Conservation Reserve Program. Signed into law as part of the 1985 Farm Bill, CRP has dramatically boosted duck production and benefitted other wildlife by establishing nesting cover on marginal cropland through incentive payments to farmers.