Delta News
All I Want for Christmas is
Paul Wait, Magazine Editor on 12/23/2015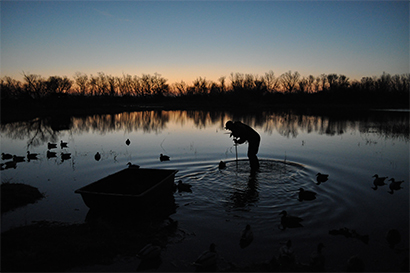 Dear Santa Claus,
I know I'm a bit old to be sending letters to the North Pole, but I'm hoping you're in an especially jolly mood and might be willing to help a desperate duck hunter out. You know, in the spirit of Christmas.
Now normally, my holiday wish list would include essentials such as a flat of No. 3 steel shot, a dozen floating canvasback blocks, an acrylic duck call, assorted camouflage garments and a patch kit for my leaky waders. I might even be so bold as to ask for a new semi-auto or a bigger duck boat.
But this year, I'm willing to forego all of that stuff if you could grant just one unselfish wish on behalf of my fellow duck hunters: All I want is a finger-numbing, lock-up-the-prairies-tight cold front. Please, Mr. Claus?
Now we've been hunting the good hunt all season — sweating profusely under our Gore-Tex and neoprene as we patiently deploy decoys, swat mosquitoes and admire sunrises amidst empty skies. So far, we've kept the weight of our complaining to a minimum, just like the heft of our duck straps.
Santa, much like you, we're running out of time to make the season bright. So, I'm asking kindly from one suited-up, bearded man to another: Could you stop off during your sleigh ride to see Mother Nature and ask her to unleash her fury on the Northern Prairies?
I surely don't want a blizzard to screw up your important goodwill journey across the globe, but the boys are getting a tad bit testy in the duck blind. The dust is building up in our choke tubes, we've worn half of the paint off the decoys rearranging them and our dog has been fetching corn cobs just so he has something to do.
El Niño needs to take a Christmas break. Bring on the ice and snow.
You understand that I don't have a grudge against my northern brothers and sisters, but they've had the ducks and geese in their back yards all autumn. Besides, waterfowl season has long been over for them.
It's time for the fat and sassy greenheads to pack up their curly tails and ride the wind down the flyways. Gadwalls, get your gray on and get to Louisiana. Hey honkers — yeah I see you there lingering on the golf course — point your pinions south. There's a lot of stubble waiting for you. And for you cans, bills and other assorted divers still basking on the Great Lakes, please board now: Your flight is leaving for Chesapeake Bay.
Santa, I implore you to grant me this one Christmas wish. You'll make the marsh a joyful place. I'll leave an extra cut-out cookie and a couple sticks of goose jerky on the counter right next to the tall glass of eggnog. Thanks!
Merry Christmas,
Hunter D. Southern
P.S. After you park your empty sleigh and feed the reindeer, you're more than welcome to stop at our duck club and hang out for a few days. Your beard will fit right in, and I'm sure we can find an extra camo jacket to hide that bright red suit.