Delta News
Initiative Launched to Declare the Canvasback Maryland's Official State Duck
Kyle Wintersteen, Managing Editor on 01/14/2016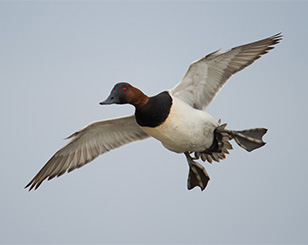 It's impossible to ponder Maryland's rich waterfowling heritage without noting such key elements as decoy carving, the market gunning era, Chesapeake Bay retrievers, and the duck that binds them all: the canvasback. In recognition of the canvasback's historical significance and ongoing conservation efforts, the Maryland Hunting Coalition and Havre de Grace Decoy Museum have launched an initiative to declare it Maryland's official state duck.
"Whether hunting for the table or for the market, for centuries this premier game bird sustained many Maryland families through long, cold winters," said Kerri Kneisley, executive director of the Havre de Grace Decoy Museum. "For that reason, the canvasback is the bird most often rendered in wood by decoy carvers throughout the region. With an official state duck designation, the museum is hopeful visitors will be inspired to behold the canvasback's wintering grounds and visit the museum to learn more about the region's unrivaled waterfowling history."
The initiative's proponents are hopeful that it will be introduced as legislation in Maryland's General Assembly. Doing so would allow lawmakers to draw attention to their efforts to restore Chesapeake Bay, which once wintered 250,000 canvasbacks. The bay now winters only about 50,000 cans, due largely to a pollution-induced decline of wild celery and also to lasting ramifications of the market era.
"If Maryland's bay restoration efforts are successful, is it possible that someday great flocks of canvasbacks may again cover the Susquehanna Flats?" asked Allan Ellis, executive director of the Maryland Hunting Coalition. "By declaring the canvasback as the official state duck, Maryland lawmakers will know their decisions in funding Chesapeake Bay restoration efforts will contribute to, among other things, the return of the most revered of all ducks in the Chesapeake Bay."