Delta News
Donor Profile: Max Sharp
Posted on 01/20/2016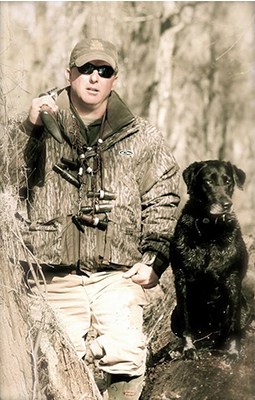 Max Sharp discovered his passion for waterfowling 25 years ago, when friends invited him to tag along. Before the sun had fully risen, he was won over by the sights and sounds, the decoys and calls, and even the simple camaraderie of duck blind coffee. A wingshooter at heart, the thrill of cupped mallards coasting into the decoys didn't hurt, either.
"If whitetails could fly, I'd probably be more of a deer hunter," Sharp said, chuckling. "I was drawn to every facet of waterfowl hunting, from the shotguns and retrievers to the history and nostalgia."
These days the Bossier City, Louisiana, resident's best hunting buddies are his sons Tanner, 19, and Levi, 20. Daughter Emily, 15, also joins on occasion.
"They're a big part of what led me to Delta Waterfowl and continues to fuel my commitment to conservation," Sharp explained. "Delta's efforts to produce ducks and preserve duck hunting are critical to the next generation of waterfowlers."
Sharp has served on the Northwest Louisiana Chapter's committee for 15 years, and more recently, he's been a generous donor to Delta's Predator Management program. A powerful experience led to his support.
"I've become good friends with Dr. Frank Rohwer (Delta Waterfowl president) and I had an opportunity to tour the prairies with him during the duck breeding season," Sharp recalled. "I saw the work of Delta's trappers in action, as well as all the depredated nests. We even caught skunks and badgers on game cameras raiding eggs. It made a real impact on me when I saw just how big a problem predators are for nesting ducks."
Thus Sharp, who owns an oil and gas drilling service and the Los Paloma Sporting Range and Events Center, was strongly compelled to act.
"I believe that when you take ducks while hunting, you have an obligation to give back as much as you're able to," he said. "Supporting Predator Management is the best way for me to do that."