Delta News
Manitoba Lowers Youth Hunting Age to 10
Posted on 01/20/2016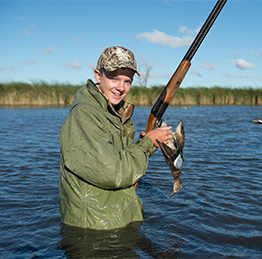 Effective in time for spring snow goose seasons, Manitoba has lowered the age requirement for hunting from 12 to 10 years of age. Delta Waterfowl was at the forefront of the effort to pass the new rule, as part of its mission to protect the tradition of waterfowling in North America.
"We were proud to work with Manitoba Conservation and Water Stewardship to bring about this important change," said Jim Fisher, director of conservation policy for Delta Waterfowl. "This is a major victory that will help ensure the future of waterfowl hunting."
Youth hunting opportunities are more restricted in Canada than in the United States. Whereas 30 or so states have no age restriction, nearly all Canadian provinces require hunters to be 12 years or older. Delta Waterfowl believes that Canada's declining waterfowler numbers might be attributed, in part, to young people becoming involved in other activities prior to being introduced to duck hunting.
"Delta has promoted lowering the youth hunting age in Manitoba and other provinces for 20 years," Fisher said. "America has many hunting organizations that focus on age requirements, but until Delta stepped in, nobody was advocating for youth hunters in Canada."
According to the new law, youths aged 10 or 11 are eligible to receive an Apprentice-Hunter Education Certificate through completion of an education course. Young hunters are then permitted to hunt under adult supervision and share the adult's bag limit (provided an eight-duck limit, the combined bags must not exceed eight ducks). Any youth participating in duck hunting will be required to purchase a federal permit and stamp.
"The move provides two extra years to introduce kids to the fun of duck hunting," Fisher said. "It also opens the door for other provinces to see what a positive thing Manitoba has done and evaluate their own age restrictions."