Delta News
Joan Hochbaum Shared a Passion for Wildlife
Posted on 01/25/2016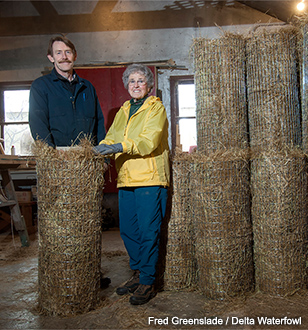 Joan (Ward) Hochbaum, the widow of Delta's first science director, died Jan. 9 in Portage la Prairie, Manitoba. She was 94.
Joan Hochbaum was born May 24, 1921, to Ed and Nellie Kate Ward at the family's home in Erinview, Manitoba. She was the second of the couple's eight children.
The Ward family moved to Delta in 1926 when her father took a job running James Ford Bell's property on the Delta Marsh. Joan Hochbaum had the privilege of growing up in the peaceful, natural beauty of the Delta Marsh, becoming an expert in the habits and traditions of the birds and animals in her surroundings.
In 1939, she married H. Albert Hochbaum, Delta scientist and graduate student of renowned conservation pioneer Aldo Leopold. Al Hochbaum served as Delta's chief scientist from 1938 until his retirement in 1970. He died in 1988.
Joan Hochbaum loved to tell stories about growing up at Delta, her home life, activities of the small fishing village (Delta Beach) and Delta Waterfowl Research Station. Her passion for wildlife and good nature made time spent at Delta more enjoyable for so many students, scientists and duck hunters.
Later in life, she volunteered many hours helping her nephew, Kevin Ward, Delta's longest-serving employee, to construct Hen Houses to be deployed across the Prairie Pothole Region.