Delta News
Spring Wetlands Outlook: Below-Average Conditions for Nesting Ducks
Kyle Wintersteen, Managing Editor on 03/08/2016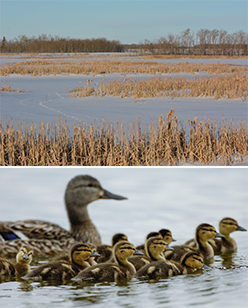 A variety of variables affect duck production, but one key requirement of breeding waterfowl can hugely impact the size of the fall flight: water. If an ample snowpack and timely rains saturate the prairie pothole region — most importantly generating temporary and seasonal wetlands — then duck production is strong. This scenario has annually played out for the majority of the past two decades. Unfortunately, the prairie is drier this March than it has been for some time.
"The prairies entered winter dry and ended winter dry," said Matt Chouinard, waterfowl programs manager for Delta Waterfowl. "That's pretty true of the entire PPR, though there are a few wet spots. Most of prairie Canada and certainly the eastern Dakotas had little snowfall."
With just weeks left before the breeding season begins, here are the current regional conditions across the most critical duck-production areas.
Canadian Prairie Pothole Region
Precipitation maps reveal that a large swath of prairie Canada — a crucial band of wetlands along the southern halves of Alberta, Saskatchewan and Manitoba — received 40 to 50 percent less precipitation than normal this winter. Additionally, unseasonable warmth is evaporating what little snow remains, ensuring the moisture won't be present when ducks begin nesting in late April and early May.
"The prairie is essentially snowless in southwest Manitoba and everywhere south of Calgary and Regina," said Jim Fisher, director of conservation policy for Delta Waterfowl. "Calgary's forecast is 10 degrees Celsius (50 degrees Fahrenheit) for the next several days, while the remainder of the prairie is above freezing or warmer. That's very unusual. This has been the warmest, driest winter of the past 20 years, so there's reason to be concerned about the available wetlands for nesting ducks. There are still about two months to turn things around, but the Canadian prairie desperately needs moisture."
The parklands regions, which lies just north of the prairie, is in somewhat better shape. Parkland habitat is also less susceptible to fluctuations in precipitation, as it consists largely of permanent and semi-permanent wetlands.
"There's a reasonable amount of snow north of the line from Minnedosa, Manitoba, west to Saskatoon, Saskatchewan, and on to Edmonton, Alberta," Fisher said. "It's still below average — the snow around Saskatoon is so low you can see the tops of the stubble — but the parklands had a wet enough fall that most ponds should have water."
Eastern Dakotas
The early outlook for all-important eastern North and South Dakota — home to some of the PPR's highest densities of nesting ducks — is poor.
"The Dakotas are experiencing mild temperatures and they're way below average in terms of moisture," Chouinard said. "Every bit of snow here in Bismarck has melted, and a lot of Canada geese are already headed north. It's not all doom and gloom, as plenty of the semi-permanent wetlands are holding water, but the temporary and seasonal wetlands that really boost duck production aren't appearing on the landscape. Even the ponds that are wet contain significantly less water."
What happens if the dry conditions continue?
"We'll lose the duck-production benefits of temporary and seasonal wetlands," Chouinard said. "Many ducks will opt to fly over the prairie and nest in the parklands, where production tends to decrease, and in the boreal forest, where they're much less productive."
Conversely, history has demonstrated that there's still time to improve the prairie's fortunes. In early March 2015, for instance, conditions were nearly as dry.
"Everyone was concerned, but then consistent showers fell over a period of days in late April and early May," Chouinard said. "When it rains that hard, the moisture runs off the top layer of soil and enters the surrounding wetlands. Last year it allowed ducks to have what's believed to be average production. There's no doubt we need significant moisture to improve the outlook for this spring, but it could happen."
However, if Mother Nature stays the course, 2016 could be the worst year for duck production in recent memory.
"We've had a good run of abundant moisture since 1994, but at some point a drought is inevitable," Fisher said. "This could well be it."