Delta News
Spring Magazine Highlights Alberta Duck Production
Posted on 03/16/2016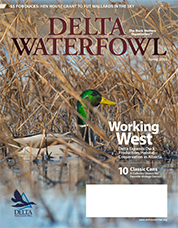 These are exciting times for Delta Waterfowl members. The organization has long focused its innovative duck production work in the prime breeding areas of eastern North Dakota and western Manitoba. Now, it's time to head west: Delta's duck production programs, including Predator Management and Hen Houses, are expanding into the wetland-rich prairies and parklands of Alberta. The Spring Issue of Delta Waterfowl magazine details why this effort means more ducks — mallards and pintails, especially — for hunters in the Pacific, Central and Mississippi flyways.
Waterfowl off-season blues got you down? The Spring Issue is your remedy, with tales of waterfowling adventures from across North America. Join editor and publisher Paul Wait on a hunt for snows, Canadas and specklebellies in Alberta. Then admire the unrivaled beauty of hunting Utah's Great Salt Lake as revealed through the lens of Delta photographer Fred Greenslade.
You'll also enjoy photos of a noted decoy collector's 10 favorite vintage canvasbacks, while managing editor Kyle Wintersteen explains how today's advanced e-collars can take your retriever to the next level. And if you love a good humor piece, Don Grussing's yarn about an old hunter who stayed at camp but got "his bird" anyhow will leave you chuckling like a hungry mallard.
As always, the Spring Issue carries a full slate of informative and entertaining columns such as Duck Dogs, Strategies, Shotgunning and Traditions to help you get the most from your waterfowl hunting.
The only way to get Delta Waterfowl magazine is to join The Duck Hunters Organization. If you are a member, thank you for your support. The Spring Issue will arrive soon. Enjoy!
To join Delta Waterfowl, call (888) 987-3695 or click here.