Delta News
Delta CEO Honored for Contributions to Conservation
Posted on 03/29/2016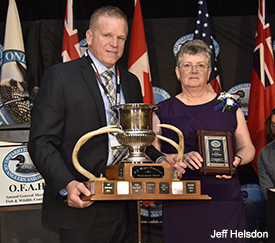 Dr. Scott Petrie, who became Delta Waterfowl's chief executive officer in September 2015, was recently bestowed with a prestigious conservation award by the Ontario Federation of Anglers and Hunters.
Petrie, who had been executive director of Long Point Waterfowl in Ontario for 18 years, was named the 2015 winner of the OFAH/Rick Morgan Conservation Partnership Award for "the most significant contribution to conservation within the past year."
OFAH recognized Petrie's leadership in Ontario working for increased waterfowl bag limits and additional migratory bird hunting opportunities, including efforts to bring a mourning dove season to the province. The organization also noted his research work on satellite tracking of migratory birds, scaup and tundra swan studies, and on the impact of wind turbines on migratory birds. In addition, Petrie engaged youth through Waterfowl Heritage Days and the Long Point Waterfowl Youth Hunting and Conservation Course.
"This is a massive honor for me," Petrie said as he accepted the award March 18 in Mississauga, Ontario. "I'd like to thank all of my graduate students, my staff, our volunteers and all of our conservation partners, because we collectively have had a number of conservation successes over the past 18 years. It has been wonderful and it has been a team effort."
Petrie has served OFAH as a director-at-large, Zone J member and chair of the Migratory Birds/Wetlands Advisory Committee.
OFAH is a non-profit fish and wildlife conservation organization representing 100,000 members and 725 member clubs.