Delta News
Delta Innovation: Floating Hen Houses Designed for Diving Ducks
Paul Wait, Magazine Editor on 03/31/2016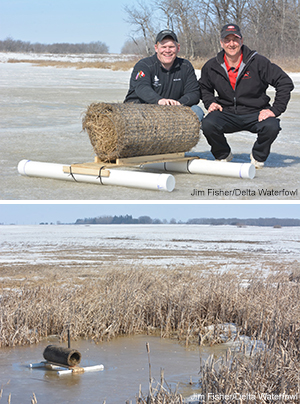 Years of research have proved that Delta Waterfowl's Hen Houses are one of the most cost-effective mallard-producing waterfowl management tools in North America.
Now, Delta's scientists are trying to tap into that same success to help boost nest success for diving ducks.
Dr. Frank Rohwer, Delta president and chief scientist, and Matt Chouinard, Delta waterfowl programs manager, each have come up with designs for floating Hen Houses. Rohwer's platform is a free-floating design anchored to the bottom, while Chouinard's version uses a collared post to hold the platform steady, but still allow the structure to rise and fall with the water levels. This spring, installation technicians will place 25 of each design in cattail slough wetlands of southern Manitoba.
Hen Houses placed for mallards are nest cylinders anchored on a steel post a few feet above the water. These floating structures use the same nest cylinders, but they will be just above the waterline. Diving ducks such as canvasbacks, ring-necked ducks and redheads prefer to nest in cover over water, but don't readily nest in elevated structures.
"The idea is to place the floating structures in small wetlands where canvasbacks typically nest," Chouinard said. "We expect that mallards will use them, but we want to see if diving ducks will use them, too."
Chouinard cited a case a few years ago where a canvasback used a Hen House after the water level rose in the slough so the nest cylinder was just barely above the waterline.
"Ducks using these floating Hen Houses won't have the protection of elevation, but they will have overhead protection and will be over open water, so that should cut down on predation," he said.
Although the floating Hen Houses are not placed in Delta's Predator Management study areas, student researchers working at the Minnedosa, Manitoba, field station will monitor the structures for usage and nest success.