Delta News
Surf Scoters Featured on 2016 Canadian Conservation Stamp
Posted on 04/01/2016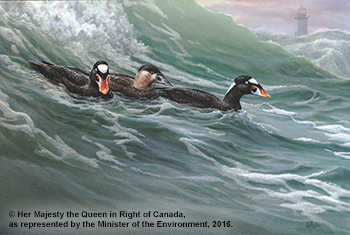 Two drake surf scoters and a hen will ride the waves of an ocean breeze on the 2016 Canadian Wildlife Habitat Conservation Stamp and Print. The winning painting, "Offshore Wind," was crafted by Pierre Leduc of Quebec.
Available for $8.50, the stamps are primarily purchased by waterfowl hunters to validate their migratory game bird hunting permits. Since 1985, stamp sales have generated in excess of $50 million in support of more than 1,500 Wildlife Habitat Canada conservation projects — including Delta Waterfowl's new Hunter Education and Recruitment Initiative and Alternative Land Use Services in Alberta.
Leduc's entry won out over a field of 22 Canadian wildlife artists at Wildlife Habitat Canada's annual art competition. His work was previously featured in 1995 (redheads), 2002 (king eiders) and 2006 (brant). Artists vying for the 2017 stamp will depict Canada geese.
A stamp and print launch event is planned for April 30. For more information, visit www.whc.org or www.rousseaucollections.com.