Delta News
Legacy Sports International Supports Delta Waterfowl as a Corporate Sponsor
Posted on 04/29/2016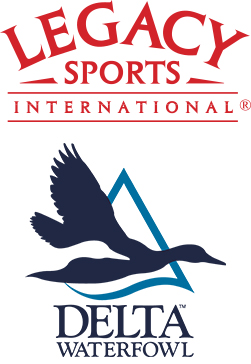 Gene Lumsden, chief executive officer of Legacy Sports International Inc., is proud to announce that the company has become a 2016 corporate sponsor of Delta Waterfowl.
As part of the agreement, Legacy Sports will direct financial support toward Delta Waterfowl's First Hunt program, the largest waterfowl-specific hunter recruitment in North America.
"Delta Waterfowl appreciates Legacy Sports commitment to help introduce new people to the thrills and traditions of duck hunting through the First Hunt program," said Bryce Seefeldt, corporate partnership director for Delta Waterfowl.
Delta Waterfowl will feature the Escort 20-gauge semi-automatic shotgun in its national gun package offered at 2016-17 fundraising banquets.
Legacy Sports International, Inc. is an importer of firearms and shooting accessories. Bringing in high-quality, reliable and affordable products to shooting and hunting enthusiasts is the mission of Legacy Sports' business. With well-respected brands including Howa rifles, Escort and Pointer shotguns, Citadel handguns and Nikko Stirling optics, Legacy Sports International is committed to offer today's shooting sports enthusiast both performance on the range and in the field. Legacy Sports' track record of over a decade proves that they have consistently provided accurate firearms and award-winning optics for the sportsman on a budget. This is why Legacy Sports International is known as "The Most Trusted Name in the Shooting Industry."
Delta Waterfowl Foundation is The Duck Hunters Organization, a leading conservation group dedicated to ducks and duck hunters in North America.