Delta News
Alberta Fires Symptom of a Dry Province
Kyle Wintersteen, Managing Editor on 05/10/2016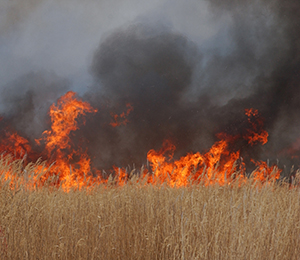 Delta Waterfowl's thoughts are with the people of Alberta, where ongoing wildfires have ravaged 700 square miles, forced an evacuation of Fort McMurray and destroyed an estimated 1,600 homes and buildings.
While Delta's primary concern is for the safety of human beings affected by the blazes, numerous members have inquired about the potential impacts on nesting waterfowl. Alberta is, after all, a critical province for breeding ducks. However, the wildfires are largely occurring in northeast Alberta, where boreal forest habitat supports far lower densities of nesting ducks than the parkland and prairie habitats to the south.
"I don't expect the fires to have a huge impact on ducks, certainly not to the extent we'll notice it in the fall flight," said Matt Chouinard, senior waterfowl programs manager for Delta Waterfowl. "The boreal is not considered prime breeding duck habitat, because its permanent wetlands aren't as beneficial as shallow wetlands to ducks such as mallards and pintails. Strong numbers of green-winged teal, ring-necked ducks, buffleheads, goldeneyes and others do breed in the vast boreal, but they don't concentrate as heavily as nesting ducks in other habitats. Fires even of this magnitude aren't likely to have a measurable impact on boreal duck production."
What about the ducks that do find themselves in the path of the fire?
"Obviously their first nesting attempt will be destroyed," Chouinard explained. "But ducks are mobile. They'll move on and attempt to renest, possibly even in areas affected by fire once the habitat recovers. Waterfowl managers have observed this occurring after prescribed burns on waterfowl production areas."
The graver threats to duck production in Alberta this spring are the prevailing dry, mild conditions that helped foster the wildfires. Following one of the warmest, most snow-free winters of the last two decades, spring rains have not materialized. Much of Alberta received 40 to 60 percent less precipitation than average during March and April.
"I expect a tough spring for nesting ducks in Alberta," said Scott McGuigan, Delta Waterfowl development director based in Calgary. "Winter was so dry that many of the wetlands I typically hunt had literally no water in them, and little has changed since then. I think it may be too late for us to reach the excellent nesting conditions we've seen for several consecutive years, but I hope a couple good rains in close proximity can get us nearer to average conditions."