Delta News
Writer Wins Award for Article in Delta Waterfowl Magazine
Paul Wait, Magazine Editor on 05/31/2016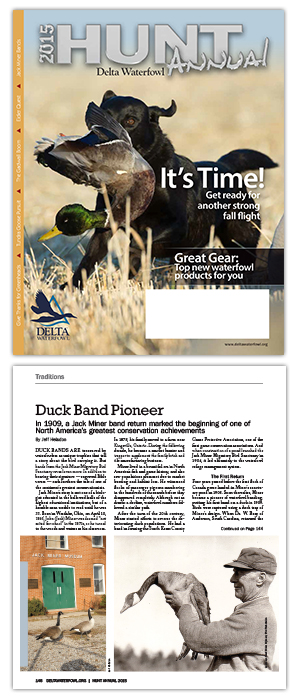 A freelance contributor from Ontario has won first place in the Outdoor Writers of Canada National Communication Awards for a recent article in Delta Waterfowl magazine.
Jeff Helsdon took the top spot in the Wetlands Appreciation/Conservation category for the article "Duck Band Pioneer," which appeared in Delta Waterfowl's 2015 Hunt Annual edition. The article details how Jack Miner and his famous banding program impacted waterfowl management in North America.
In the same category, Duane Radford was awarded third prize for "Delta Waterfowl's Predator Management," an article featured in the September 2015 issue of Alberta Outdoorsmen. Radford also took second place for the same article in the The Future of Hunting in Canada category, which is sponsored by Delta Waterfowl.
Writer Ken Bailey took first prize in The Future of Hunting in Canada category with "Women and Waterfowling," which ran in Alberta Outdoorsmen. Bailey, who is from Alberta, is a contributor to Delta Waterfowl magazine.
Brad Fenson, a long-time contributor to Delta Waterfowl magazine, also won two OWC awards for his writing and photography.
Delta Waterfowl magazine, the premier publication for North American duck and goose hunters, is an exclusive benefit for members of The Duck Hunters Organization. For more information or to join Delta Waterfowl, visit www.deltawaterfowl.org.