Delta News
Delta Waterfowl Supports Right-To-Hunt Legislation in North Carolina
Posted on 06/01/2016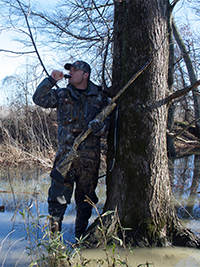 At Delta Waterfowl, we're continually working to ensure the future of waterfowl hunting throughout North America. Delta has eagerly supported legislation in a number of states to extend constitutional protection for hunters.
Last week, members of the North Carolina legislature took a significant step for sportsmen and women by introducing SB 889, a bill that would amend the state's constitution and forever affirm the right of North Carolinians to hunt, fish and harvest wildlife.
If you live in North Carolina, we urge you to contact your legislators and support this important bill. Click Here
No matter where you live in the United States or Canada, Delta Waterfowl makes it easy to contact your representatives through Votility, a free, easy-to-use program. Through Votility, (sign up here) Delta will provide "Action Alerts" specific to your state or province, as well as supply a sample letter for you to send to legislators, all of whom are conveniently listed for you. Please sign up today to help Delta enhance and protect your hunting opportunities.
Delta Waterfowl — The Duck Hunters Organization — is the "Voice of North American waterfowl hunters." We remain ever vigilant to support new opportunities for hunters, as well as to defend against any threats to the tradition we cherish.