Delta News
Louisiana Chapters Teach 131 Kids to Call Ducks and Geese
Posted on 06/20/2016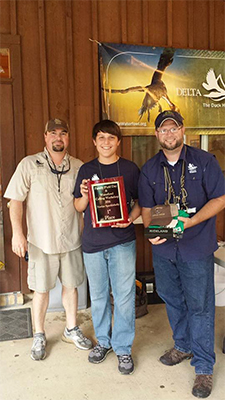 Three years ago Brent Sawyer, chairman of the Northshore Chapter in Mandeville, Louisiana, had an idea: What if he could devise a free, family-friendly event to teach kids about the traditions of waterfowling and competition duck calling? Thus, through a critical partnership with Riceland Custom Calls and a helping hand from the Gulf Coast Chapter in Lake Charles, Louisiana, the first Family Field Day and Waterfowl Calling Workshop was held.
"I joke that I was too embarrassed to ask for help blowing a duck call, so I designed an event where I could learn," Sawyer said. "The reality is we enjoy it, and it's a great day for the kids to have fun, learn about hunting and calling waterfowl, and go home with some great prizes and other goodies."
In April, both the Northshore and Gulf Coast chapters held separate Family Field Day and Waterfowl Calling Workshops. Open to kids ages 4 to 16, an impressive total of 131 kids attended the events.
"One of the biggest reasons for our success is we're able to provide these events without charging for attendance," Sawyer noted. "We rely on our chapters' Waterfowl Heritage Funds, and we've also had no trouble finding partners and sponsors."
Offered as a series of 15-minute stations, this year's field day activities included skeet shooting, retriever training, a duck ID lesson taught by U.S. Fish and Wildlife Service staff and more. Additionally, calling workshops for ducks and specklebellies were held every 45 minutes.
"Every kid received a Delta duck call, so they could walk into the workshop and learn to blow their own call," Sawyer said. "We've been fortunate enough to have Kelly Haydel attend, who's just incredible. He's the most amazing instructor on a kid's level I've ever seen."
Following conclusion of the workshops, the day's grand finale commenced: A calling competition for the newly minted callers. The top three duck and specklebelly callers took home trophies and hand-tuned, custom calls from Haydel's, Riceland and others.
"It's a fun competition for kids who just learned to blow a cluck on a specklebelly call," Sawyer said. "Some just have to get up there and make noise, but I guarantee you they went home and practiced. That's why we do it."