Delta News
Delta's Summer Magazine Focuses on Great Lakes, Atlantic Flyway
Posted on 06/21/2016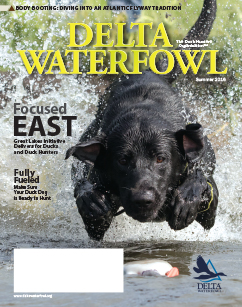 Delta Waterfowl programs, research and work benefits ducks and duck hunters throughout North America. In The Duck Hunters Organization's Spring Issue, Delta's work in the West and Pacific Flyway was highlighted. Now, the Summer Issue heads East, specifically to the Great Lakes and Atlantic Flyway.
The Summer Issue will introduce you to one of Delta's important priorities: The Great Lakes Initiative. We're ramping up our efforts in the region to increase duck production, conduct research, educate and recruit new waterfowl hunters, and defend hunting. Speaking of the Great Lakes, we present our Delta Decoy Hunt held on Lake Erie. Redheads couldn't resist a stunning spread of hand-carved decoys. Flip the page and you'll find important news about big changes to sea duck regulations for Atlantic Flyway hunters. We'll also take you on a tidal marsh hunt for black ducks, and then drop you overboard for a little body booting on the Susquehanna Flats.
Do you appreciate teal? Well, wildlife photographer Gary Kramer has captured a collection of amazing images of all three species. You'll see: It's a tantalizing teal treat. Contributing writer Brian Lovett shares insights on where mallards disappear to after they leave the roost, and doles out some advice on how to hunt them, too.
We reveal expert advice about how to treat your decoys to bring in more birds, how to perfect your pattern to kill more ducks and how to feed your duck dog so he can fetch them. And to top it off, Bill Miller shares duck camp recipes so you can feed your buddies and keep on hunting.
The only way to get Delta Waterfowl magazine is to join The Duck Hunters Organization. If you are a member, thank you for your support. The Summer Issue will arrive soon. Enjoy!
To join Delta Waterfowl, call (888) 987-3695 or visit deltawaterfowl.org/get-involved/membership-options.html.