Delta News
Built for Duck Hunters: Delta Waterfowl 2016 Hunt Annual
Posted on 08/01/2016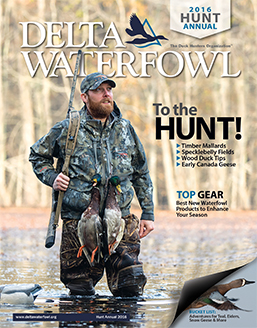 Geese are flocking up. Teal already have an inkling to head south. And Delta Waterfowl's 2016 Hunt Annual will be migrating to mailboxes throughout North America next week.
Delta's Hunt Annual, the premium magazine issue for waterfowl hunters in all four flyways, features the largest and most comprehensive collection of duck and goose hunting stories of any magazine anywhere.
The Hunt Annual is loaded with tips and tactics to help make your season better. Veteran hunter Ken Bailey shares 35 pieces of sage advice gained from five decades of waterfowling experience. Midwestern writer Brian Lovett takes you inside the world of wood ducks, while Joe Shead explores how hunters can cash in on the molt migration of Canada geese.
Ever thought about traveling to hunt? Brad Fenson details why Saskatchewan and Alberta are certainly the hottest destinations for speckle-bellied geese. Tag along on a wild sandhill crane hunt, or hop in the boat for a sea duck hunt — pull down your hat, we're hunting eiders and long-tailed ducks. Climb in the blind to share in the pure joy of an amazing late-season Atlantic Flyway hunt with Kyle Wintersteen. Need flooded timber mallards? Strap up your waders and come stand among the trees with photographer Fred Greenslade.
We're profiling the best new waterfowl products, from shotguns, shotshells, choke tubes, decoys, calls, blinds, boats, mud motors, camouflage, clothing, retriever accessories and a host of other duck blind necessities.
If you hunt ducks and geese, you'll want to have the Hunt Annual — it's the bull sprig of waterfowl world. The only way to get Delta Waterfowl magazine is to join The Duck Hunters Organization. If you are a member, thank you for your support. Your 2016 Hunt Annual is in the mail.
To join Delta Waterfowl, call (888) 987-3695 or click here.