Delta News
Fall Issue Highlights Hunting, Breeding Duck Habitat Program
Posted on 09/13/2016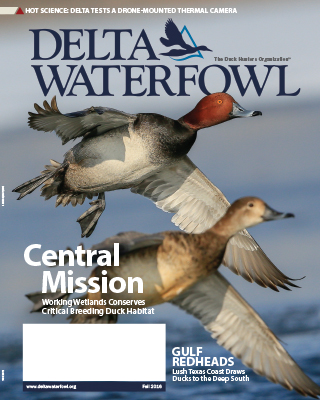 North America's ducks face a growing habitat crisis: Small, temporary and seasonal wetlands are the primary engines of duck production, yet thousands of acres are drained annually. If the trend continues, today's thriving duck numbers simply cannot be sustained. That's why Delta Waterfowl developed the Working Wetlands program as an innovative new solution. In the Fall Issue, you'll learn why the Working Wetlands pilot project in North Dakota is gaining support from the agriculture community and key U.S. congressional offices as a powerful tool to conserve wetlands.
You'll also get a glimpse inside Delta's research into using drones and thermal imaging to locate nesting ducks. The new technology could improve safety and streamline the efforts of waterfowl researchers — and you won't want to miss the photos of it in action.
With the waterfowl migration upon us, the Fall Issue provides thorough analysis of the 2016 Waterfowl Population Status report, and forecasts the size of this year's duck and goose fall flights.
Of course, publication of the Fall Issue means one thing: It's hunting season! You'll find plenty of new, killer strategies to add to your waterfowling playbook. Brian Lovett reveals the tricks to hunting ducks in a heat wave, while John Pollmann details the effects of the lunar cycle on waterfowl activity, and Brad Fenson explains why you can't beat Canada in the early season.
You'll join Paul Wait for a Baffin Bay adventure in search of prime redheads, wigeon and pintails, and relish the tale of a Manitoba woman whose Delta First Hunt experience inspired her to mentor new waterfowlers.
As always, the Fall Issue carries a full slate of informative and entertaining columns such as Duck Dogs, Shotgunning, Strategies and Traditions to help you get the most from your waterfowl season.
The only way to receive Delta Waterfowl magazine is to join The Duck Hunters Organization. If you are a member, thank you for your support. The Fall Issue will arrive soon!
To join Delta Waterfowl, call (888) 987-3695 or visit deltawaterfowl.org/get-involved.