Press Releases
Delta Waterfowl-Minnesota DNR Effort Putting Mallards on the Wing
John Devney, Vice President of U.S. policy on 03/30/2011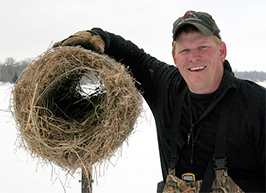 Matt Chouinard's job requires driving hundreds of miles on snow-packed roads, toting armloads of heavy gear through knee-deep drifts and working hours at a time in 30-below wind chills—and that's on a good day.
Why would someone who holds a Master of Science degree happily pursue an occupation even Mike Rowe might reject? Apparently one man's "Dirty Job" is another man's passion, and Chouinard's passion is ducks.
Matt, 36, is a biologist for Delta Waterfowl who makes his living erecting, maintaining and evaluating artificial nesting structures called Hen Houses. Matt says 1,050 of them have been installed across 19 counties in western Minnesota in a cooperative effort with the Department of Natural Resources (DNR).
Hen Houses are wire cylinders lined with flax or slough grass, mounted on steel posts and erected in the small lakes and wetlands that attract nesting ducks. Used almost exclusively by mallards, the cylinders are positioned three feet above the water line where they're inaccessible to nest-raiding predators.
Erecting new Hen Houses and replenishing the vegetation in existing ones is best accomplished when lakes are frozen, which means Matt logs more ice time than a Zamboni operator.
"This was the scariest winter of all," he says, explaining how early snow kept many wetlands from fully freezing. "You just never know what you're going to find. My snowmobile fell through the ice and I spent the rest of the day getting it out."
But Matt knows he'll get the last laugh on Old Man Winter when the ducks that settle in his Hen Houses start kicking out broods of mallards this spring.
A lot of people believe ducks nest over water, but dabbling ducks like mallards, pintails, gadwalls, bluewinged teal and northern shovelers actually nest in grass, often far from the nearest wetland, where their eggs are easy pickings for predators.
For the duck population to expand, 15 to 20 percent of those nests must hatch, but across much of the prairie breeding grounds, nest success is typically just 10 percent--of the rest, most are destroyed by predators like fox, raccoons and skunks.
Large, undisturbed blocks of grass help buffer duck nests from predators, but with the exception of Conservation Reserve Program (CRP), nesting cover across most of the breeding grounds is limited to wetland margins, fence lines and ditches, what waterfowl managers call "death traps" because they're so easy for predators to hunt.
Matt says nest success in western Minnesota is often well below the maintenance level--just 5 percent in some places--but the odds swing wildly in favor of ducks using artificial nesting structures. The success rate for mallards using the Hen Houses Matt erected is a whopping 82 percent.
Chouinard earned his master's degree from Mississippi State as part of Delta Waterfowl's prestigious student research program. His master's work was conducted around Minnedosa in the parklands of Manitoba, an area that suffers from the same chronically low nest success rates that plague western Minnesota, and for the same reasons: too many predators and not enough grass.
Delta's scientific staff was so impressed with Matt's work they offered him a job. He and his wife Michelle moved their family to Morris, and Matt hit the road installing Hen Houses.
That was four years ago, and today Matt, a native of Missouri, takes Gopher State winters in stride. His territory extends from Fergus Falls to the Iowa border, and he travels that route four times a year.
When he's not falling into wetlands and dodging blizzards, Matt scientifically documents occupancy rates and nest success for the Hen Houses he's installed, and the results are telling. According to his research, a Hen House produces as many extra ducks each year as 26 acres of restored grass in western Minnesota.
Given the cost of purchasing or taking easements on land, Hen Houses are easily one of the most cost-effective of the tools available to waterfowl managers.
Unfortunately, the future of the highly productive program in unclear. Much of the funding is provided by a DNR grant through its Working Lands initiative. Conservation programs are always among the first to be cut when the economy stutters, and this time is no exception.
But Ray Norrgard, the DNR's wetland wildlife program leader, remains optimistic. "I'm feeling pretty positive we'll be able to continue the grants," Norrgard said last week. "We see this as a beneficial program to enhance duck production, and we're looking forward to some expansion, maybe as early as next year."
Norrgard says he and Chouinard have discussed adding value to the program by installing wood duck boxes along with Hen Houses. "This is a great program to get volunteers involved," he says.