Press Releases
Indiana Man Named Delta Waterfowl Volunteer of the Year
Paul Wait, Magazine Editor on 08/08/2012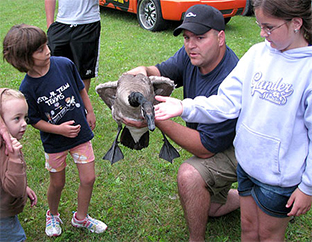 When Derek Craig was informed he was being considered for Delta Waterfowl's 2012 Volunteer of the Year Award, his first inclination was to decline any individual recognition.
"When I was told I was nominated, I had reservations," said Craig, who serves as secretary for the Northeast Indiana Chapter of Delta Waterfowl. "While I may do a certain percentage of the work, our whole committee does the work. It's 15 people, not just me."
Craig's selfless attitude exemplifies the profile of a super volunteer, and led to his nomination as one of 18 candidates for the award. After being named one of seven finalists, Craig collected the most votes during a month-long contest on Delta's website.
"It's humbling," he said. "It's a huge honor. It isn't so much for me — it's more of an award for the chapter. Everyone who gives their time gives 110 percent. It's a team."
The 43-year-old engineer from Angola, Ind., was part of a group that formed the NE Indiana Chapter in June 2008. In addition to consistent growth and success with banquet fundraising, chapter members construct and place hen houses and wood duck boxes each winter.
Craig is the driving force behind the chapter's most noteworthy achievement, an annual two-day outdoor program that exposes 600 kids to conservation, waterfowl and hunting. Tabbed as "Duck Day," activities include retriever training demonstrations, duck ecology, building wood duck nest boxes, recycling, trapping and a section called "Swamp Zoo." Craig teaches it, educating young people about the value of wetlands.
"Most of these kids have never seen the positive side of conservation and hunting," Craig said. "The kids get to see and experience nature first-hand. They get to see the types of life in swamps and learn about water quality."
Pride in giving back is exactly why Craig remains so dedicated to Delta Waterfowl.
"My experience with Delta has been so rewarding," he said.
For being named the Volunteer of the Year, Craig wins a Franchi Affinity semi-automatic shotgun. Craig said he intends to donate the gun to his chapter to be used as a fundraiser at the next banquet.
"On behalf of Delta Waterfowl, I'd like to congratulate Derek Craig and the NE Indiana Chapter," said Jason Tharpe, senior director of events fundraising. "Really, this award is about all of our volunteers in North America. Our volunteers are the foundation of Delta Waterfowl."
According to Tharpe, Delta has 270 chapters in more than 40 states and seven Canadian provinces. More than 2,400 men and women volunteer countless hours every year to put on fundraising events, mentored hunts, youth outdoor education and install waterfowl nesting structures.
"We just couldn't do it without our volunteers," he said.
Delta Waterfowl Foundation is a leading North American conservation organization, tracing its origins to the birth of the wildlife conservation movement in 1911. The Foundation supports research, provides leadership and offers science-based solutions to efficiently conserve waterfowl and secure the future of waterfowl hunting. Delta Waterfowl is based in Winnipeg, Manitoba, and Bismarck, N.D.