Press Releases
Predator Management Means More Ducks
Posted on 12/03/2012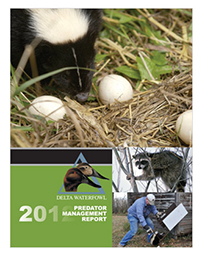 Bismarck, N.D. — Delta Waterfowl's predator management research continues to demonstrate the effectiveness of strategic trapping on waterfowl nest success.
Delta's 2012 Predator Management research report, released today, documents the dramatic improvement in nest success on selected trap sites in North Dakota and Manitoba.
The most significant results were found in the Parklands of Manitoba, an area of intense agricultural activity, isolated aspen bluffs and limited nesting habitat. Delta's trapping program took place on a 16-square-mile area near Minnedosa, Manitoba, and a 25-square-mile block near Shoal Lake, Manitoba. Nest success for 2012 was 34.3 percent and 17.1 percent, respectively.
It is common for nest success in this area, which is part of the famous "Canadian Duck Factory," to be astonishingly low. Two control blocks, where no trapping took place, had nest success rates of .07 percent and .78 percent. In other words, less than one out of every 100 nests successfully hatched in the non-trapped areas.
"We're extremely impressed at the results our trappers are getting," says Joel Brice, vice president of conservation for Delta Waterfowl. "In Manitoba, there's a 10-fold increase in nest success. This is incredible."
In North Dakota, on two 36-square-mile trapped blocks, nest success was 46.63 percent and 40.69 percent. More than four out of every 10 nests successfully hatched. On two adjacent control blocks, where no trapping took place, nest success was 10.55 percent and 27.54 percent.
The break-even percentage — the number needed to simply maintain waterfowl populations — is 15 percent to 20 percent.
This year's research continued to focus on "low-grass" areas of North Dakota and Manitoba. These areas have high breeding duck densities and very little grass nesting cover, often less than 10 percent of the land.
Delta will continue predator management research in 2013 on trapped and non-trapped low-grass blocks in North Dakota and Manitoba. Research next year will also focus on when, and how, to implement predator management on a larger scale.
Delta Waterfowl Foundation is a leading North American conservation organization, tracing its origins to the birth of the wildlife conservation movement in 1911. The Foundation supports research, provides leadership and offers science-based solutions to efficiently conserve waterfowl and secure the future of waterfowl hunting. Delta Waterfowl is based in Winnipeg, Manitoba, and Bismarck, N.D.