Press Releases
Delta Waterfowl Hires Two Regional Events Directors
Posted on 01/09/2014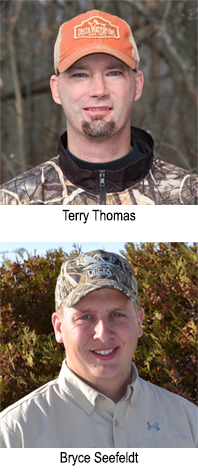 BISMARCK, N.D. — Delta Waterfowl has added Terry Thomas and Bryce Seefeldt as regional events directors.
Thomas, an Illinois native, will work with Delta chapters in Wisconsin, Illinois, Indiana, Michigan and Iowa.
"One of my main goals is to recruit new waterfowlers and open minds to hunting and conservation," he said.
Thomas, 42, is married with two children. In fall, if he is not in a duck blind awaiting migrating mallards, Thomas is likely up in a tree bowhunting whitetails. He has worked in the archery industry for a decade.
Contact Thomas at (217) 971-3606 or tthomas@deltawaterfowl.org.
Seefeldt has worked for Delta Waterfowl as an events coordinator since November 2012. His new duties as a regional events director span North Dakota, South Dakota, Minnesota, Colorado, Montana, Wyoming, Nevada and outlying states.
"I'm excited about this opportunity. I look forward to getting to know my chapters and helping spread the word about Delta," he said.
A native of southeast North Dakota, Seefeldt, 36, is a lifelong hunter who has been hooked on waterfowling for the past six years. He currently lives in Bismarck, N.D., with his wife and two children.
Seefeldt can be reached at (701) 220-2542 or bseefeldt@deltawaterfowl.org.
Delta Waterfowl regional events directors work with chapters across North America. Following is a list of Delta's regional directors, contact information and the areas they cover.
United States
Chris Williams — cwilliams@deltawaterfowl.org
Delaware, Florida, Georgia, Massachusetts, Maryland, North Carolina, New Hampshire, New Jersey, New York, Pennsylvania, South Carolina, Virginia, outlying East Coast
Bryce Seefeldt — bseefeldt@deltawaterfowl.org
North Dakota, South Dakota, Minnesota, Montana, Colorado, Wyoming, Nevada, outlying states
Bryan Leach — bleach@deltawaterfowl.org
Louisiana, South Mississippi, Southeast Texas
Terry Thomas — tthomas@deltawaterfowl.org
Iowa, Wisconsin, Illinois, Indiana, Michigan
Ty Jean — tjean@deltawaterfowl.org
Arkansas, Oklahoma
Jeremy Stephens — jstephens@deltawaterfowl.org
Missouri, Kansas, Nebraska, Utah, Alaska
Jason Douglas — jdouglas@deltawaterfowl.org
Northwest Louisiana, Texas, Arizona, New Mexico
Kyle Samples — ksamples@deltawaterfowl.org
Tennessee, Kentucky, North Mississippi, Alabama, Georgia, Ohio, Oregon, Washington
Canada
Russ Donnelly — rdonnelly@deltawaterfowl.org
New Brunswick, Nova Scotia, Ontario, Prince Edward Island, Eastern Canada
Marty van Sloun — mvansloun@deltawaterfowl.org
Alberta, Manitoba, Western Canada
Delta Waterfowl Foundation is a leading North American waterfowl conservation organization, tracing its origins to the birth of the wildlife conservation movement in 1911. For more information, visit deltawaterfowl.org.