Press Releases
ALUS Returns to Manitoba
John Devney, Vice President of U.S. policy on 07/18/2014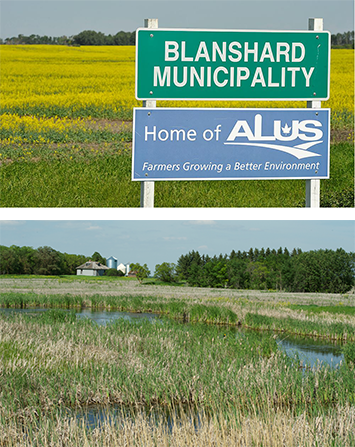 Alternative Land Use Service program returned to its birthplace this week with an announcement of new project in the heart of Manitoba's prairie pothole region. ALUS is returning after a very successful pilot project that occurred in the southwestern part of the province from 2006 to 2008.
"ALUS was born in Manitoba from the original visioning conversations between Delta Waterfowl and the Keystone Agricultural Producers, and we are glad to have a new project to address the same critical needs which ALUS was developed to solve," said Jonathan Scarth, the original architect of ALUS and Delta Waterfowl's senior vice president.
The project was launched July 15, just as southern Manitoba is in the grips of another major flood event — the second major flood to occur within the Assiniboine River watershed since 2011.
"The public is now recognizing the linkage between the loss of small wetlands and these extraordinary flood events," noted Jim Fisher, Delta Waterfowl's director of conservation policy. "And the time is right to illustrate how voluntary, incentive-based programs like ALUS can work hand-in-hand with farmers, ranchers and local communities to conserve and enhance habitat for ducks, manage flood waters and enhance water quality."
Wetland loss in southern Manitoba has drastically reduced the region's duck production potential. The project will focus on conserving, restoring and enhancing wetlands and upland nesting cover, which will aid duck production and address other conservation concerns.
ALUS focuses on working with farmers and ranchers in the communities they live in to create new conservation solutions on private lands. The principles of ALUS include providing voluntary, incentive-based payments to landowners for conservation and enhancements on working farms and ranches.
"We will continue to support programs like ALUS that share the cost of the landowners' conservation efforts and the protection of wetlands," said Doug Chorney, president of KAP, which is Manitoba's largest agricultural group.
The Manitoba project is benefitting from a new investment from the Canadian government in the form of the Lake Winnipeg Basin Stewardship Fund and Canada's recently announced $252 million National Conservation Plan.
Robert Sopuck, Member of Parliament for the riding where the project will occur, acknowledged the role of ALUS in the government's new development and investment in conservation.
"I can assure you that the ALUS principles are embedded in Canada's new National Conservation Plan," he said.
ALUS coming home to Manitoba another step forward for ALUS and the ducks that breed in southwestern Manitoba.
"We believe ALUS has the best chance to conserve habitat for breeding ducks and achieve the whole spectrum of key conservation outcomes by working hand-in-hand with the people who own and control the duck factory," Scarth said. "We are happy to have ALUS back home in Manitoba, especially in light of the great progress ALUS has made across the country."
In addition to Manitoba, ALUS programs are being delivered in Alberta, Saskatchewan, Ontario and Prince Edward Island.