Press Releases
A Shifting Flock: Teal, Gadwalls, Shovelers Thriving
Posted on 08/05/2014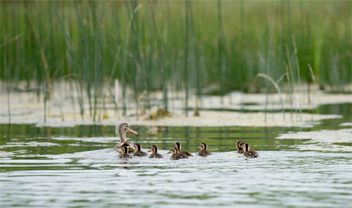 For immediate release
BISMARCK, N.D. — Anticipation for the upcoming duck season is soaring after last month's release of the 2014 Waterfowl Breeding Population and Habitat Survey estimated a record 49.2 million ducks.
Hunters should be excited. At 10.9 million, mallards registered the second highest tally in the history of the survey that has been conducted annually since 1955. Good water conditions across much of the key breeding range should result in a lot of young ducks winging south this fall.
However, the mix of duck species over your decoys this fall might be a bit different than in the past. Mallards are still the most abundant duck. Not so long ago, pintails and bluebills rounded out North America's top three most common ducks.
Not anymore.
In 2014, mallards, blue-winged teal (8.54 million) and northern shovelers (5.28 million) occupied the top three spots in the spring breeding survey. Bluebills (4.61 million) have been bumped to the fourth-most abundant duck among the survey species, while pintails have plummeted from second to seventh. The breeding pintail population has fallen to 3.22 million, less than a third of what it was at its high point of 10.37 million in 1956.
Meanwhile gadwalls, which were the eighth-most abundant in 1956 at less than 800,000, have surged up the list to fifth most abundant on the strength of a 2014 breeding population of 3.81 million.
So how did three species — blue-winged teal, shovelers and gadwall — that once comprised 19 percent of the total breeding population, increase in abundance so their numbers now make up 36 percent?
They are species that have benefited the most from changes to the landscape in the U.S. prairies, particularly the eastern Dakotas.
"Bluewings, spoonies and gadwalls are true prairie nesters, and are hardwired to nest in the Prairie Pothole Region," said John Devney, Delta Waterfowl vice president of U.S. policy. "With the presence of grassland cover from Conservation Reserve Program acres, a long period of largely favorable wetland conditions, and the scarcity of red fox, the eastern Dakotas has turned into a hotbed for these ducks."
While prairie Canada has historically been the Holy Grail for breeding ducks, the ongoing losses of the small wetlands that drive duck production has taken a toll. The eastern Dakotas, meanwhile, have boomed because of CRP and a wet cycle lasting the better part of two decades.
Ducks such as gadwalls, blue-winged teal and northern shovelers have benefited to the point they now outnumber ducks such as pintails, that 60 years ago, were much more prevalent.
For more information, contact John Devney, vice president of U.S. policy (888) 987-3695 ext. 218, jdevney@deltawaterfowl.org.
Delta Waterfowl Foundation is The Duck Hunters Organization, a leading conservation group dedicated to ducks and duck hunters in North America. Visit deltawaterfowl.org.