Press Releases
Enjoy Delta Waterfowl Photos All Year Long
Posted on 08/12/2014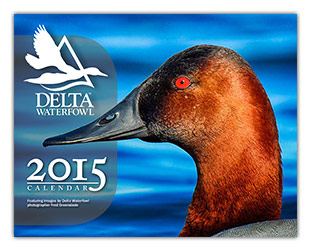 The 2015 Calendar features spectacular images by Fred Greenslade
BISMARCK, N.D. — You've enjoyed the stunning photography in Delta Waterfowl magazine for years, and now, you can hang those outstanding pictures of ducks, geese and retrievers next to your desk or on your refrigerator to enjoy all year long.
The 2015 Delta Waterfowl calendar, the first of its kind from "The Duck Hunters Organization," is available now through the Delta Waterfowl online store. In addition to world-class waterfowl photography by long-time Delta photographer Fred Greenslade, each month features a waterfowl fact.
The 2015 Delta Waterfowl calendar covers 13 months, starting with December 2014. In addition to being a showpiece, it's also practical. The date pad blocks are large so you can write in appointments and notes, and certainly log important dates such as opening day of duck season and the hunting trips you have planned.
The calendar is a $14.95 value, but for a limited time, they are available at the introductory price of $12.95 in The Delta Waterfowl Store. To order a calendar or for more information, log on to the web at thedeltastore.com.
Delta Waterfowl Foundation is The Duck Hunters Organization, a leading conservation group dedicated to ducks and duck hunters in North America. Visit deltawaterfowl.org.