Press Releases
Delta Waterfowl Names Chief Operating Officer
Posted on 10/20/2014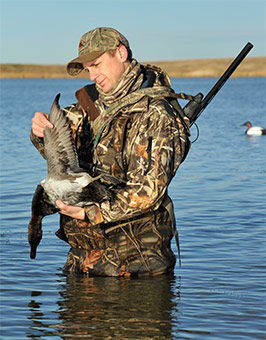 BISMARCK, N.D. — Delta Waterfowl has promoted Jason Tharpe to chief operating officer, a primary role in running the business aspects of the organization. He will oversee systems, planning, staff development and be a liaison to the Board of Directors.
Tharpe, a 40-year-old native of Louisiana, has been with Delta since 2003, when he joined the staff as a regional director in Texas. In 2006, he was promoted to regional support manager. He was named director of events and membership in 2011, and vice president of events and membership in 2012.
"It's about focus," Tharpe said of his new role. "Delta has taken on everything that's come down the pike for the past 20 years. Now, we're focusing on the ways to be the most impactful for ducks and duck hunters."
Dr. Frank Rohwer, Delta's president, recognized Tharpe's work on Delta's new five-year strategic plan.
"I know of no one smarter or better at strategically planning and executing on the Delta mission to help ducks and duck hunters," Rohwer said. "Jason knows people and ducks, and he is 100 percent committed to Delta. Nobody could be better for advancing the things duck hunters care about."
Tharpe, a life-long waterfowl hunter, moved to North Dakota in 2009 with his wife, Deanna, and two sons.
For more information, contact Tharpe at (888) 987-3695 or jtharpe@deltawaterfowl.org.
Delta Waterfowl Foundation is The Duck Hunters Organization, a leading conservation group dedicated to ducks and duck hunters in North America. Visit deltawaterfowl.org.