Press Releases
Cabela's Outdoor Fund Grant Will Boost Delta Waterfowl Hen House Program
Posted on 01/26/2015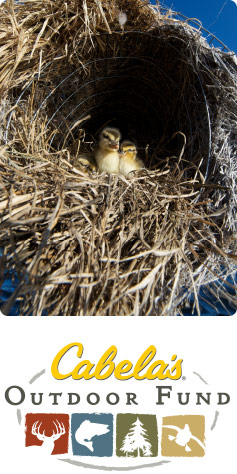 BISMARCK, N.D. — A $50,000 grant from Cabela's Outdoor Fund to benefit Delta Waterfowl's Hen House Program will put more mallards into the fall flight.
The grant money will fund annual maintenance and repairs to 250 Hen House nesting structures in Manitoba for the next 10 years.
"Cabela's Outdoor Fund is proud to award this grant to Delta Waterfowl, a long-time partner in conservation with Cabela's," said Jeremy Wonch, vice president of Cabela's Outdoor Fund.
Used primarily by mallards, Hen Houses are nesting cylinders placed over water in small wetlands. Delta focuses Hen House sites in prairie wetland areas with limited nesting cover where nest predators such as red foxes, raccoons and skunks can easily find duck nests in the sparse patches of grass.
Delta Waterfowl research has shown duck nesting success rates of less than 2 percent in some intensely farmed areas of Manitoba, said Matt Chouinard, waterfowl programs manager. At the same time, Delta studies have shown average nest success of 61 percent in Hen Houses, and that 82 percent of the structures were used in Manitoba over a five-year period.
Mallards using a Hen House in program areas of western Manitoba are 12 times more likely to hatch a nest than those nesting in the grass. Hen Houses are the most cost-effective tool to produce mallards.
"We estimate through our research that this grant will add 5,250 mallards to the fall flight," Chouinard said.
Delta Waterfowl maintains more than 7,000 Hen Houses in key duck production areas, with more than 3,000 of the structures in Manitoba. Currently, Delta's Hen House program adds 15,000 mallards to the fall flight annually.
Cabela's continues to be a generous supporter of Delta Waterfowl programs.
"Importantly, the grant also allows us to continue to grow the Hen House program in Manitoba," Chouinard said. "Ultimately, our goal is to add 250,000 mallards to the fall flight."
Cabela's Outdoor Fund, funded by customers who donate by rounding up their purchases at Cabela's stores to the nearest dollar, is a tax-exempt organization dedicated to supporting conservation and hunting, fishing, camping, boating and other outdoor recreation activities. Through this program, funds have been raised from like-minded Cabela's customers to support organizations across North America working to make the great outdoors even better.
"This grant is a great example of how we put our customers' donations through our Round-Up Program to work in the field on a very important conservation project," Wonch said.
To learn more about Cabela's Outdoor Fund, visit cabelas.com/outdoorfund. For more information on Delta Waterfowl's Hen House program, contact Matt Chouinard at (888) 987-3695 or mchouinard@deltawaterfowl.org.
Delta Waterfowl Foundation is The Duck Hunters Organization, a leading conservation group dedicated to ducks and duck hunters in North America. Visit deltawaterfowl.org.