Press Releases
Delta Waterfowl Hires Regional Director for Kansas and Missouri
Posted on 09/21/2015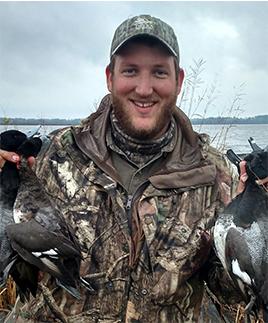 BISMARCK, N.D. — Delta Waterfowl welcomes Garrett Trentham, 25, as regional events director for Kansas and Missouri.
A graduate of North Carolina State University with a degree in natural resources, Trentham is a third-generation duck hunter and a committee member of Delta's Triangle Chapter in Raleigh, North Carolina. In 2014, he assisted in Predator Management studies in North Dakota and Saskatchewan as a Delta Waterfowl research technician.
"I saw firsthand the benefits of Delta's duck production efforts," Trentham said. "The trapped blocks resulted in remarkable nest success rates, while most nests in the non-trapped sites didn't last a week. That's largely why I'm so excited to work with chapters and volunteers to ensure Delta Waterfowl has the resources needed to succeed."
Trentham will reside in St. Louis, Missouri, with his black Labrador retriever, Maggie. He can be reached at (252) 814-6656 or by email at gtrentham@deltawaterfowl.org.
Delta Waterfowl Foundation is The Duck Hunters Organization, a leading conservation group working to produce ducks and ensure the tradition of duck hunting in North America. Visit deltawaterfowl.org.