Press Releases
New Regional Director Will Serve Delta's Western Canada Chapters
Posted on 12/04/2015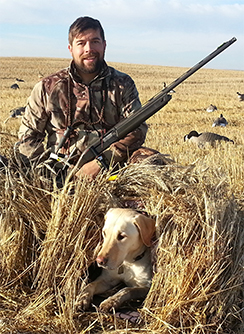 Delta Waterfowl has hired a new regional events director for Western Canada.
Tyler Riewe, 29, will work with Delta chapter volunteers to establish, grow and maintain fund-raising events in British Columbia, Alberta, Saskatchewan and Manitoba.
Riewe earned a bachelor's degree in environmental and conservation sciences from the University of Alberta in 2008. He has worked in a variety of roles as a professional, most recently in environmental compliance for a construction company.
An avid waterfowl hunter, Riewe was drawn to Delta Waterfowl because of the organization's mission to produce ducks and ensure the future of duck hunting in North America.
"Delta's programs directly benefit duck hunters, and waterfowl heritage is very important to me," he said. "Waterfowl enthusiasts need to be better advocates for themselves, and we need to champion hunting and responsible stewardship."
Although Riewe sometimes hunts sloughs, he favors setting up in harvested fields for ducks and geese.
"I really enjoy the anticipation of those last couple of minutes right before legal shooting time," he said. "You usually get to see birds up close in a field, you know what's ahead and you know it's going to be a good day."
Riewe is married, and he and his wife Vanessa are expecting their first child in the spring. The couple lives in Calgary, Alberta.
Contact Riewe at (403) 805-1147 or triewe@deltawaterfowl.org.
Delta Waterfowl Foundation is The Duck Hunters Organization, a leading conservation group working to produce ducks and ensure the tradition of duck hunting in North America. Visit deltawaterfowl.org.