Press Releases
Delta Waterfowl Opposes Canadian Bill that Poses Risk for Hunters and Anglers
Posted on 03/11/2016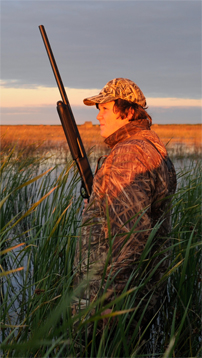 WINNIPEG, MANITOBA — A recently introduced bill in Canada's Parliament could criminalize normal hunting, fishing, trapping and farming activities.
Bill C-246, the "Modernizing Animal Protections Act," was introduced Feb. 26 into the House of Commons as a law to ban importation of shark fins. However, the proposed legislation also would change important legal language regarding treatment of all animals. The Bill does not specifically exempt accepted practices associated with hunting, fishing and trapping. Further, it doesn't provide protection for ranchers and other uses of animals.
A coalition of animal-rights groups has rallied support around the Bill, which has serious implications for all people who enjoy outdoor heritage activities in Canada. Under provisions of C-246, hunters could face criminal charges for killing an animal, with penalties of up to a $10,000 fine and five years in jail.
"Delta Waterfowl strongly opposes this Bill," said Jim Fisher, Delta's director of conservation policy, who is based in Winnipeg. "Hunters, anglers, trappers and the agriculture community must work together as it poses risk to the very things we do every day. No one wants to see cruelty to animals, certainly not hunters, fisherman or ranchers. But this bill introduces so much uncertainty about what constitutes cruelty that hunters, anglers, farmers and ranchers and so many others could be prosecuted under its vague language."
Delta urges all of its Canadian supporters to contact their Member of Parliament to express their strong opposition to Bill C-246.
For more information, contact Jim Fisher at jfisher@deltawaterfowl.org.
Delta Waterfowl Foundation is The Duck Hunters Organization, a leading conservation group dedicated to ducks and duck hunters in North America.