Press Releases
Delta Waterfowl Expands Events Team, Hires Regional Director for Ohio and Michigan
Posted on 04/05/2016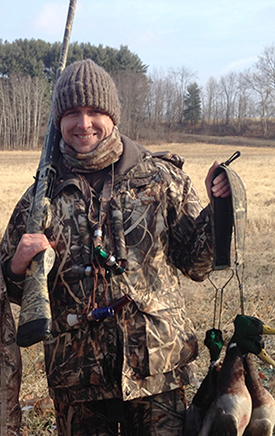 BISMARCK, N.D. — Delta Waterfowl is pleased to welcome Eric Webb, 31, as regional events director. Webb will work with Delta chapter volunteers to establish, grow and maintain fundraising events in Ohio and Michigan.
Webb was especially drawn to Delta's mission to recruit the next generation of waterfowlers. Despite his upbringing in the mallard haven of Arkansas, Webb wasn't exposed to duck hunting until friends at the University of Arkansas invited him to tag along.
"From setting up decoys to calling birds to just talking to your buddies, I'd found my passion," Webb said. "That's why I'm such an advocate for introducing others to the sport. If nobody had taken me duck hunting, I'd still be focused on deer."
Following graduation, Webb pursued a banking career in Ohio, where he enjoys the state's many field-hunting opportunities for Canada geese. As a founding member and chairman of the Mid-Ohio Chapter in Mansfield, Webb demonstrated the skills and determination necessary to continue growing Delta's chapter and events system.
"Ohio and Michigan have a strong tradition of duck hunting, particularly along the Ohio River and the Great Lakes," Webb said. "There's great potential to add new chapters, and I'll be working pedal to the metal to spread awareness of The Duck Hunters Organization."
Webb lives in Lexington, Ohio, with his wife Stephanie, three children and two Labrador retrievers. Contact him at (567) 274-1197 or ewebb@deltawaterfowl.org.
Delta Waterfowl Foundation is The Duck Hunters Organization, a leading conservation group working to produce ducks and ensure the tradition of duck hunting in North America.